udigitalfiles
(Jerome)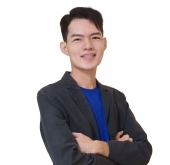 (1)
| | |
| --- | --- |
| Nick name | Jerome |
| Location | Banlic, Cabuyao, |
| Member since | 2021-03-04 |
| Field of expertise | Video Editor |

Profile
Hello! I am Jerome your partner in creating amazing works. My passion is for doing marketing-related stuff such as creating advertisements and engaging content. Businesses are my friends to help them recognized brand identity and increase sales through marketing.

I have a bachelor's degree in Business Administration major in Marketing Management in a Government University in my country.

Softwares I use: Adobe Premiere Pro. Adobe After Effects, Adobe Photoshop, Power Director Pro, and 3D Blender.
| | |
| --- | --- |
| Recent online | 2022-01-14 12:54:42 |
| | 0% |
| Transactions | 1 |

| | |
| --- | --- |
| | 0 |
| Conversations | 0 |
| Talent clipped | 2 |
Major career
As a Marketing Professional, I help businesses in building their brand identity to their audience and increase sales through my strategy in marketing.

I am the man behind UniqueDigitalFiles
Total profit amount
₱ 3,250